Psalms 37: 4 says, " Delight yourself in the LORD and He will give you the desires of your heart". V. Mac and Peggy have been given the desires of their heart.


V.Mac grew-up in Durham County, North Carolina, but not in a farming family. His home was on a 2 acre tract. However, at 10 years of age, he bought his first calf. V. Mac states that raising that calf gave him a passion for cattle that he has never lost. His boyhood dream was to "own and work on a good farm". In fact, in his High School Senior Yearbook, it was predicted that he would become a cattle rancher.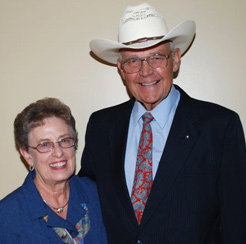 V.Mac and Peggy, Founders
Baldwin Family Farms
In 1969, after a hitch in the Navy, his marriage to Peggy Oakes, two degrees in Electrical Engineering and a busy job with Bell Laboratories, V. Mac started a Charolais herd. on Peggy's 19 acre home farm and bought two registered Charolais heifers. For the next 12 years, through trial and error, artificial breeding, and renting numerous farms, V. Mac learned to breed, feed and graze Charolais cattle for profit.


In 1981, V. Mac and Peggy bought a rundown 331 acre cattle farm near Yanceyville, NC. He developed and intensive year-around grazing system using winter and summer annuals of Ryegrass, Crimson, Red, and Arrowleaf Clovers and Red River and later Quick and Big Crabgrass. The system is a nutritious (sweet grass) forage bank that puts up to 3 lbs of daily gain on cattle. The operation has expanded to 2300 acres of deeded land. The herd has over 900 mama cows.

In addition to their growing beef operation, the Baldwin's are contract hatching egg producers. The farm now produces about 16 million hatching eggs per year and about 2400 tons of composted hen manure annually to grow their grasses.


V. Mac was named the 2008 North Carolina Farmer of the Year. He was the 2009 President of the North Carolina Forage and Grassland Council. He is a member of the North Carolina Cooperative Extension State Advisory Council. He is a member of the NC Farm Bureau Beef Commodity Group and is a member of the NC Agriculture Commissioner's Roundtable. He is also an active member in the Gideons International.