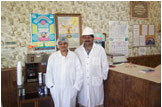 Chaudhry Halal Meats
Our steers are processed by Chaudhry Halal Meats, in Siler City, NC. Mr. Abdul Chaudhry owns and operates a very modern USDA inspected facility. He and his staff do a great job in handling our steers with minimal stress. His Plant is USDA Inspected with up to 6 Inspectors on-site daily. Our Beef Sides are properly cooled and chilled before dry aging for 21 days. After aging, they are cutout, weighed, labeled and flash frozen into kitchen ready cuts.
Abdul's is truly an American success story. Unable to speak English, he came to the United States at the age of 16 from his native Pakistan. He was sponsored by an older uncle who worked for AT&T. He graduated from UNCG with a degree in Business. He soon found himself processing livestock (goats, lambs, and cattle) which is a trade learned as a young boy in Pakistan. As Abdul continued to prosper, he invested and reinvested in his processing business.

The Chaudhrys currently own a Plant in Siler City, NC worth several million dollars. Abdul and Shamim have three children. The entire family works in the business and they all live near Siler City. The Chaudhrys are hard working people. And as they say back home: "
they are so honest they can be trusted with uncounted money
".
Any questions regarding processing may be addressed to V. Mac or directly to Abdul. Abdul be reached at 919-200-2812
---