Shipping Information
Our shipping days are Monday and Tuesday of each week. We use UPS Ground exclusively which is up to 3 days. For shipments to the West Coast region, we use UPS 3-day Select. If Overnight Air is desired, please call for call (336) 694-1620.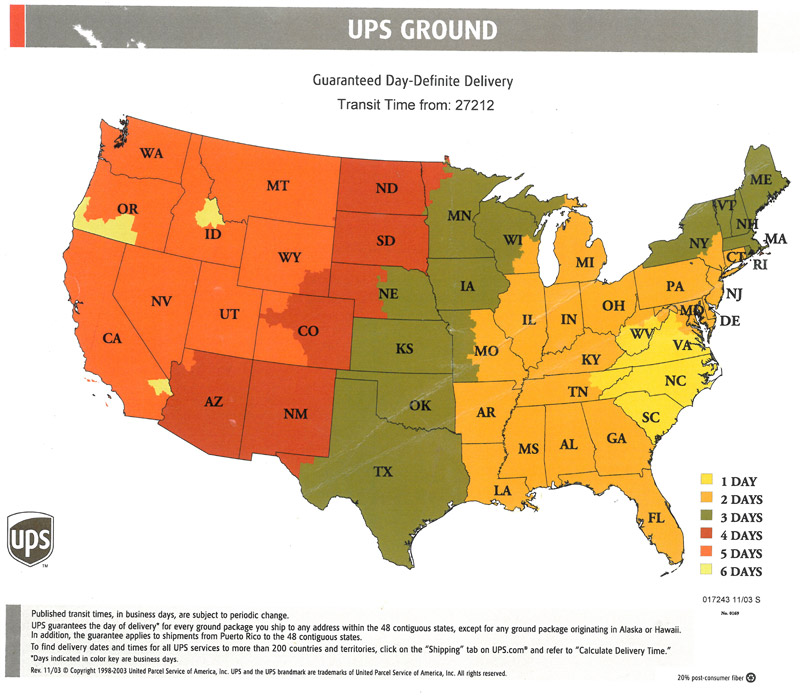 Our beef is packaged in reusable styro-foam chests with Gel Pacs and/or Dry Ice. To insure that your order arrives in top condition before the weekend, we always ship on Monday and maybe on Tuesday. Orders should be in by Sunday evening in order to make the Monday shipment. See the UPS map shown above to determine your shipping schedule.
Privacy Statement
BaldwinBeef.com is dedicated to keeping your information completely confidential. The information collected on this website is used exclusively to (1) accurately identify you as a valued customer in order to fulfill all of our services both online and offline, (2) enable the processing of your payment via this web interface and (3) expand our own private mailing list.
It is NOT our policy to rent or sell our customer list or phone numbers to any outside companies. While checking out, this site operates from a secure server and all personal information is encrypted. BaldwinBeef.com respects your privacy and sincerely appreciates your business.