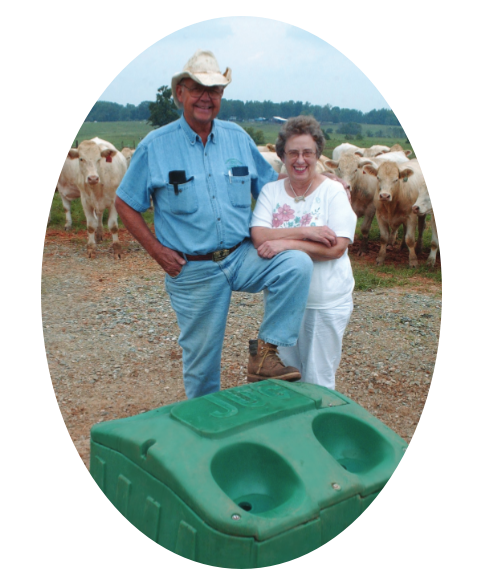 Psalm 37:4 "Delight thyself in the Lord and he shall give thee the desires of thine heart."

At a very young age, a God-given desire was birthed in V. Mac to one day own a Cattle Farm. At age 10, he purchased his first calf. His home had only 2 acres of land ---So he equipped his calf with a halter and rope and he tied him out to graze. His first Cattle lesson was to never wrap a rope around your hand with a calf on the other end. His High School FFA project was a Polled Hereford heifer that he raised. The senior Class Prophecy stated that he would become a TEXAS RANCHER.
He soon joined the Navy but he never forget his first calf and his desire for owning a Cattle Farm.

After the Navy, V.Mac entered the NC State University school of Electrical Engineering and soon married Peggy Ann Oakes. Upon graduation, V. Mac was employed by Bell Laboratories and assigned to Burlington, NC----which is Peggy's home town. And In 1969, His desire for a Cattle Farm begin to materialize. He purchased a few Angus cattle and several Registered bred Charolais (Char-Lay) heifers. They were maintained and grazed on Peggy's family 19 acre home farm. V. Mac learned to do Artificial Insemination and for the next twelve years, they rented farms, purchased more Charolais females and retained their bred Charolais heifers.
In 1981, they purchased a 331 acres home farm in Caswell, County, NC. And for the next 20 years, they raised and sold Registered Charolais breeding cattle. As other farms were purchased and added to their operation, they soon become a multi -generation, sustainable Cattle Farm, called "Baldwin Family Farms. In 2002 they begin producing a unique grassfed, antibiotic free, all-natural beef under the label and brand-- "Baldwin Beef". In 2003 they opened their "On Farm Beef Store". And in 2004, they activated their first Website and soon became a Grassfed Beef Vendor to Whole Foods Market.

In 2008, V. Mac was named NC Farmer of the Year.

The Baldwin's have developed a unique winter and summer grazing system using annual Sweet Grasses. Their Sweet Grasses produce a remarkable and unforgettable flavor in their beef. Consumers continue to rave about the eating quality of Baldwin Beef. V. Mac and Peggy's son, Craig is now the General Manager and their Grandson, Stephen, is Operations Manager. Their operations now has over 3000 head in NC and VA.