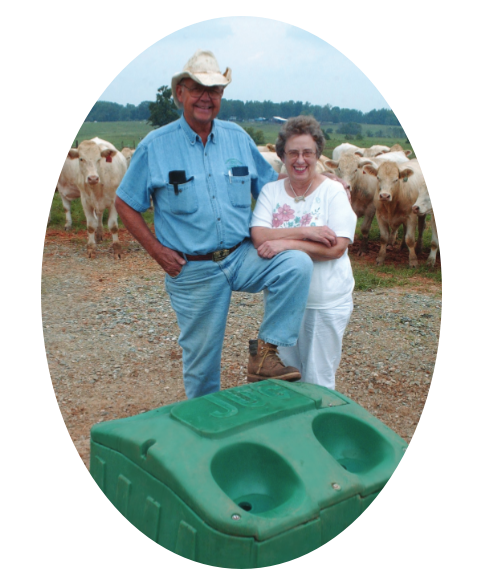 If you've ever had grass-fed beef, then count your blessings. And you probably wondered why you hadn't tried it sooner. With superior flavor, less fat, fewer calories and melt-in-your-mouth tenderness, what's not to love about grass-fed beef?
That's why the Baldwin family began marketing their grass-fed "Baldwin Beef." They knew that they could raise cattle the old-fashioned way - on grass, free of chemicals and antibiotics and still deliver the finest beef you have ever tasted.
Baldwin Family Farms is a multi-generation, sustainable Charolais cattle ranch owned and operated by the Baldwin family. The operation is over 2300 acres of deeded grassland near Yanceyville, North Carolina. The Baldwin family consists of V. Mac & Peggy , daughter Patti Shepherd (Grandsons Scott & Patrick) and son Craig, wife Tracey (Granddaughter Kristain and Grandson Stephen and wife Stephanie).
Inspired by his Grandfather, the late H. Mack Weatherspoon, V. Mac dreamed of being a cattleman at very young age. He purchased his first calf when was 10 years old. While studying engineering at North Carolina State University, when others were cruising Raleigh on weekends, V. Mac and Peggy would cruise the NC State cattle herds on their Vespa Scooter.


Their quest to own and operate a cattle operation begin in 1981 in the purchased a 331-acre homeplace in Caswell County.


The Baldwins practice a unique form of winter and summer grazing that allow them to graze year-around. There are three key elements to their program: 1) Using rich organic plant food (breeder hen litter) which is now produced entirely on their farm from over 90,000 hens and roasters, 2) Fall/winter grazing of Rye Grass, Crimson and Red clover and 3) Spring/Summer grazing of Red River and Quick and Big Crabgrass. This unique system of high energy, high protein (sweet grasses) has quadrupled the grazing capacity of their pastures while further improving the quality and flavor of their beef.


In 2002 the Baldwins began direct-marketing their unique grassfed, antibiotic free, all-natural lean beef under the Baldwin Beef label. In 2003, they opened their On-Farm Beef Market. Being early adopters of web technology, they established their first website in 2005
The mission statement of Baldwin Beef is : "To Produce chemical-free, all-natural grassfed lean beef with superior health benefits, quality and flavor utilizing old-fashioned, sustainable techniques--From Our farm to your Family "


We invite you to visit our farm, tour of our pastures, see our cattle and visit the Baldwin Beef Market.