Baldwin Charolais Beef is a healthy, low-fat, hormone and antibiotic-free beef produced by Baldwin Family Farms. Learn more about the health recipes and benefits of our beef below:

Healthy Diets:
Several popular diets have recently recognized the value of lean, all-natural, grass-fed beef in their diet. This high protein food helps provide essential amino acids, vitamin B12, A, D, and E, as well as important minerals and other nutrients. We are especially impressed with God's Biblical health plan as it is presented in Dr. Jordan S. Rubin's bestselling book
The Maker's Diet
.
_______________________________________________________
Beef Sausage & Egg Muffin Cups
Make a breakfast on-the-go with these beef and egg muffin cups.
INGREDIENTS:
1 package Beef Sausage
1 can (4-1/2 ounces) chopped green chiles, undrained
1/2 cup shredded reduced-fat Monterey Jack cheese
5 large eggs
1/4 cup reduced-fat milk
1 to 2 teaspoons regular or chipotle hot pepper sauce
Toppings (optional):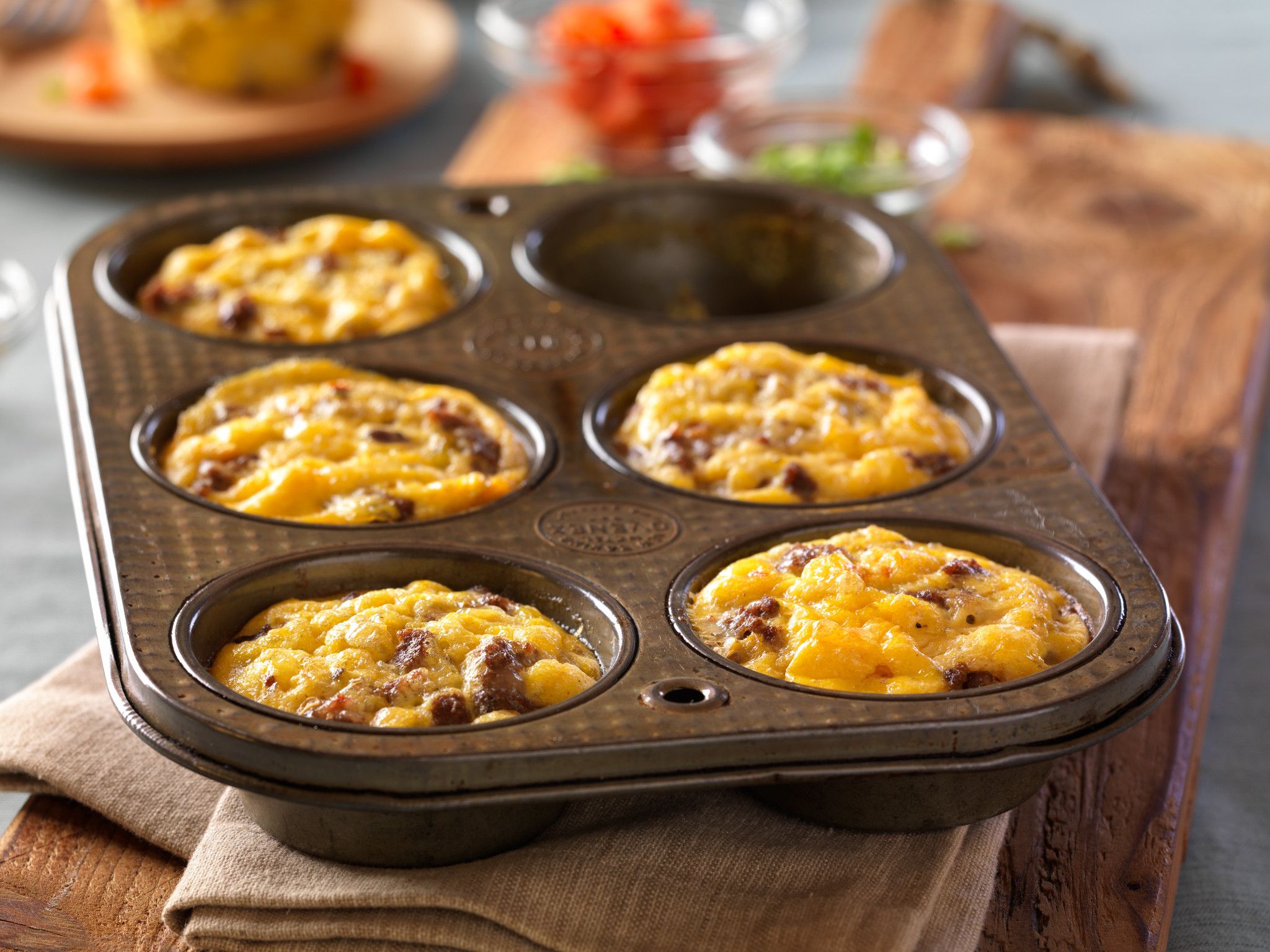 Chopped green onion or chives, chopped tomato, salsa or additional hot sauce
COOKING:
Preheat oven to 375°F. Coat 12-cup standard muffin pan with cooking spray. Brown Beef Sausage. Stir chiles and cheese into sausage mixture. Evenly divide mixture into prepared pan.
Whisk eggs, milk and hot sauce, as desired, in medium bowl. Evenly divide egg mixture over sausage mixture in muffin cups.
Bake in 375°F oven 17 to 20 minutes or until egg mixture is set and just beginning to brown. Let stand 2 minutes. Loosen edges; remove from muffin pan. Season with salt and pepper and garnish with Toppings, as desired.
Cook's Tip: Cooking times are for fresh or thoroughly thawed ground beef. Ground beef should be cooked to an internal temperature of 160°F. Color is not a reliable indicator of ground beef doneness.
~~~~~~~~~~~~~~~~~~~~~~~~~~~~~~~~~~~~
Peggy's Homemade Marinate Sauce
3/4 Cup Salad Oil
3/4 Cup of Soy Sauce
1/2 Cup of Lemon Juice
1/4 Cup of Worcestershire Sauce
1/4 Cup of Prepared Mustard
1-2 Tsp of Black Pepper
1 Tsp of Ginger
2 Tsp of Molasses
2-3 Cloves of Garlic
Cover the meat to be marinated and store in the fridge for 24-36 hours. A good tip is to put the marinate and meat together in a zip-lock bag. When finished, remove the meat and discard the bag with the marinate.
In addition, a rich source of beef marinates and recipes can be found on the website of the Cattlemen's Beef Board and National Cattlemen's Beef Association.
~~~~~~~~~~~~~~~~~~~~~~~~~~~~~~~~~~~~~
Baldwin Ranch Chili and Beans

Ingredients

1.5 pounds lean Baldwin Charolais Ground Beef
1 Can Kidney Beans
2 Cans Diced Tomatoes
1 Pack of Ranch Dressing Mix
1 Pack of Taco Powder
1 Can of Pinto Beans
1 Can of Garbanzo Beans
1 Can of Large Lima Beans
1 Can of Corn
Directions

Add 3/4 cup of water to the beef and stir meat and water together until roughly mixed.
Cook until the beef begins to brown.
Add the remaining ingredients and let it simmer for one hour, then serve.
For a variation, add chili powder instead of taco powder. You can use a variety of other beans such as navy beans, pork & beans, black-eyed peas, or whatever you might have on hand.
We hope a home-cooked meal with fresh local beef brings some comfort and joy to you and your loved ones during this challenging time in our world. If you want to ensure your family gets quality beef, you can order a subscription from Baldwin beef instantly online!
~~~~~~~~~~~~~~~~~~~~~~~~~~~~~~~~~~~~~~
Baldwin Charolais Burgers
The following is the favorite burger recipe of the Baldwin Family. It will beat anything you have ever tasted, guaranteed! Mix the following recipe and press into burgers using the Robinson Burger Press.
Click here to order the Burger Press.
1.5 pounds Baldwin Charolais Ground Beef.

1 T Worcestershire sauce.

1 package of dry onion soup mix.

Salt and Pepper to taste
~~~~~~~~~~~~~~~~~~~~~~~~~~~~~~~~~~~


Baldwin Slow Cooked Beef Brisket



Our slow-cooked brisket is an easy "gotta try" dish.

1 fresh or frozen beef brisket (3-4 lbs)
1/2 lb sliced fresh mushrooms
2 bay leaves
2 cups crushed tomatoes
1 cup chopped onions
1/2 cup packed brown sugar
1/2 cup balsamic vinegar
1/2 cup ketchup
1/2 cup cornstarch
1/4 cup cold water
2 cloves minced garlic

Cut the brisket in half; place in a 5 qt slow cooker. Add mushrooms and bay leaves. Combine the tomatoes, onion, brown sugar, vinegar, and ketchup; pour over the beef. Cover and cook on low heat for 6-7 hours or until the meat is tender. Remove beef and keep warm. Discard bay leaves. In a large saucepan, combine cornstarch and water until smooth. Gradually stir in cooking liquid. Bring to a boil; cook and stir for 2 minutes until thickened. Slice meat across the grain; serve with sauce.
~~~~~~~~~~~~~~~~~~~~~~~~~~~~~~

V. MACS QUICK AND EASY BEEF BBQ
Ingredients
3 pounds grass-fed beef chuck roast
2 cups of your favorite BBQ sauce
2 cups of water, and covering liquid
Directions
Mix your water and sauce together.
Thaw the roast to room temperature.

Place in the pan and cover the beef with the 50/50 sauce.

Cover the pan with foil and put it on the grill (or in the oven) at about 200-250 degrees.

Every hour turn the roast to ensure it cooks evenly. Cover with water.

Cook low and slow until fork-tender, 6-8 hours or overnight.
The aroma of your cooker will stir the neighborhood. You can't mess-it-up.
~~~~~~~~~~~~~~~~~~~~~~~~~~~~~~~~~~~~
Brianna De La Honssaye's BBQ Burgers
Brianna is the delightful daughter of our friend Alfred De La Honssaye. She loves to Bar-BQ our Charolais Burgers with her very own sauce that she designed. The following is Brianna's unique recipe. If you like sauce with a "Louisiana twist", you will love Brianna's blend.
1/4 Cup of Soy Sauce

1/8 Cup of Vinegar
A pinch of the following: parsley, oregano, mustard powder
1 Tbs of Creole Seasoning
1/4 Cup of Water
1 Tbs of Molasses
2 Tbs of Olive Oil

Mix and marinate the burgers for a few minutes and paint on the burgers every time they're turned. To enhance the "Louisiana twist", add 3 to 5 drops of Louisiana hot sauce.
~~~~~~~~~~~~~~~~~~~~~~~~~~~~~~~~
Baldwin Two-Step Steak Tip
A little known culinary trick using a 2-step (grill/oven) process will guarantee that your steaks will turn out juicy and tender every time, even if you like them well-done.
Start with thick steaks (1" or better). Make sure the steaks are not ice-cold. We recommend thawing them overnight in the fridge and setting them out about 30 minutes before cooking.
Choose your searing method, grill or skillet. Whichever you choose, the surface should be piping hot and brushed with virgin olive oil before applying the meat.
Rub both sides of each steak with virgin olive oil and season with pepper, then apply sugar. For NY Strips, and Ribeyes, use about 1/4 teaspoon of sugar per side; for Filet Mignons, use a little less. Wait to season them until you are ready to sear since the sugar melts quickly. Hold the salt and salty seasoning until after cooking since salt draws out moisture and inhibits browning.
Sear the steaks 2-3 minutes per side. They should end up with an impressive crust that has nice grill marks. Skillet steaks should also have an impressive crust with a few blackened spots around the edge.

Brush them with your favorite marinade.
Finally, cook the steaks in a 325-degree oven. Once seared, the steaks only need 15-20 minutes to reach a rosy pink medium.
~~~~~~~~~~~~~~~~~~~~~~~~~~~~~~~~
BALDWIN/HERKO "TRIPLE LEAN" EYE OF ROUND ROAST
The Eye of Round Roast is the leanest beef cut available. In our case, the beef is from our Baldwin Charolais steers which are grass-fed which adds two more degrees of leanness ---- making it the most heart-healthy lean beef cut available.
One of our customers, Chris Herko, sent us her favorite Eye of Round Roast recipe that was passed to her by her mother-in-law. We have tried it and it is truly a "mouth-watering" treat. Chris's recipe is as follows:
Let your Eye of Round Roast thaw and reach room temperature before starting.

Place the Roast in a foil-covered roasting pan with 1/2 inch of water in the pan.

Sprinkle the Roast moderately (on all sides) with garlic salt.

Brown the roast in a preheated 500-degree oven for 10 minutes per pound for a medium-well done. 7 or 8 minutes per pound for a more medium-rare Roast.

At the end of the browning time, turn off the oven and leave the roast to sit for another 1/2 hour. DO NOT OPEN THE OVEN DURING THIS TIME. If your oven has two controls, one for bake/broil and one for the temperature, just turn off the bake/broil and leave the temperature set to 500.
Regarding the gravy, after removing the Roast from the oven, use the broth and scrapings from the roasting pan to mix for a brown gravy. Place the Roast on a platter covered with foil in a low-temperature oven (about 125 degrees) until the gravy is ready and the dish is ready to serve.
Thank You Chris Herko for this family recipe.
~~~~~~~~~~~~~~~~~~~~~~~~~~~~~~~~~~
Eleanor Stevens' "Forever Young Meat Loaf"
There is a group that meets at the Tabernacle Baptist Church in Danville, VA who call themselves "Forever Young". Mrs. Eleanor Stevens served her meatloaf at a recent meeting. It was made with lean ground beef and it was moist and mouth-watering delicious. Eleanor has given me permission to share her special recipe with you:
2lbs Of Lean Ground Beef
1 Minced Onion
1 Diced Green Pepper
1/2 Cup of Firmly Packed Light Brown Suger
1/2 Cup of Crushed Saltine Crackers
2 Large Eggs Beaten
1/4 Cup of A-1 Sauce
3 Tbsp of Ketchup
1 Tsp of Salt
1/2 Tsp of Garlic
Mix all together and place in a lightly greased 13"x 9" pan. Brush top with mustard sauce as follows:

1/2 Cup Packed Light Broun Sugar
1/4 Cup of Mustard
Mix together and brush on Top of Loaf.
Then Pour the Following Tomato Sauce Evenly Over the Top

1 Cup Canned Crushed Tomatoes
1 8oz Tomato Sauce
1/4 Tsp Salt
1/4 Tsp Garlic
Bake @375 degrees for 1 hour or until the center is no longer pink. Let stand for 15 minutes before serving. It should serve 8-10 people. ----- Thank you Eleanor for your "Stomping Good" Meat Loaf Receipt. I hope our customers try it.

~~~~~~~~~~~~~~~~~~~~~~~~~~~~~~~~~~
Cara Demu's Grass-fed Beef Bone Broth (aka Liquid Gold)

Ingredients
3-4 lbs of grass-fed beef bones. Look for a mixture of bones that are meaty and boney bones that have knuckles and ligaments

1/4 to 1/2 of olive oil.

1 large onion roughly chopped.

3 stalks of celery roughly chopped.

2 carrots, thinly sliced.

A handful of fresh thyme.

1 bunch of parsley.

2 tbl spoons of whole peppercorn

3 bay leaves.
Directions
You will need a large stockpot, at least 12 quarts. If the pot is bigger you can add more veggies.

"Sweating" the veggies before adding the bones imparts a nice flavor. Get the pot going with olive oil on medium heat and add the sliced onion. Allow the onion to cook soft and then add the veggies. It will take about 30 minutes for it all to cook soft.

Once the veggies are soft, add the bones and fill the pot with as much water as it will hold.

In the last hour of cooking, add the parsley, peppercorn, and bay leaves.

After cooling, strain and discard all the solids.

Refrigerate --- it will last 7-10 in the fridge and forever if frozen.
Drink several cups daily for good health ---- more if dealing with a health issue.
Footnote: the simmer on the stock should be low and slow. You should only see one bubble or two come up to the surface at one time. That is very slow! If the stock simmers too at too high a heat, it will form MSG (monosodium glutamate) out of the glutamine. So instead of having a glutamine-rich stock, you will have a ton of MSG which is toxic to your nervous system and will contribute to a sluggish liver. So keep the heat low. Here is a video on the perfect simmer. She does it on chicken stock but the same applies to beef bone stock.:
- Cara Demu, RD, MPH