Press Release
Contact: Janie Batson
704-788-7026
e-mail: jbbatson@ctc.net
V. MAC BALDWIN NAMED 2008 NORTH CAROLINA FARMER OF THE
Von M. "V. Mac" Baldwin of Yanceyville, N.C., has carved out a unique market in the beef business by selling fresh and frozen cuts of his grass-fed Charolais cattle directly to organic stores and consumers. "Our cattle generate weekly cash flow," he says. "That is almost unheard of in the beef business—to get weekly cash flow from a breeding herd."
He maintains more than 800 Charolais cows on 800 acres of owned land and 2000 acres of leased pastures. His calves are grass-fed to slaughter weight prior to processing into kitchen-ready cuts. In addition, he raises hatching eggs on contract and uses the poultry litter waste as a low-cost organic fertilizer for his forages. "We feed the litter to
the grass and let the grass feed the cows," he explains.
As a result of his accomplishments as a beef and poultry producer, Baldwin has been selected as the 2008 North Carolina winner of the Swisher Sweets/Sunbelt Expo Southeastern Farmer of the Year award. Baldwin now joins nine other state winners from the Southeast as finalists for the award. The overall winner will be announced on Tuesday, Oct. 14 at the Sunbelt Ag Expo farm show in Moultrie, Ga.
He started farming in 1969 while working full time off the farm as an electrical engineer.
That is when he bought two registered Charolais heifers and rented his wife Peggy's 19- acre home farm. He continued to rent farms and gradually expanded his Charolais herd. In 1981, he bought his first farm, 331 acres in Caswell County, N.C. He has since bought four more farms.
V. Mac and Peggy have two adopted children. Their daughter Patti lives nearby and is a nurse at Duke Medical Center. Their son Craig bought an adjoining farm which is part of the grazing operation. Baldwin credits Craig for persuading he and Peggy to borrow the money needed to buy their first farm.
In the early 1990's, Baldwin began to convert his fescue-based pastures to year-round grazing featuring winter and summer annuals. His winter component is a mix Marshall ryegrass and crimson clover. His summer component is Quick and Big Crabgrass.This forage system is high in total digestible nutrients and protein," he says. "We can easily put two to three pounds of daily gain on growing cattle without the need for grain or hay. It is a remarkable forage plan that will work anywhere in the Southeast."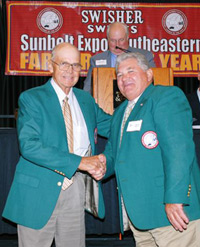 Baldwin also feeds fresh fruit byproducts from a nearby processing plant. The rinds and trimmings from fresh watermelons, cantaloupes and pineapples serve to stretch his grass supplies. To use this feed, Baldwin had to come up with trucking, watertight trailers and concrete feed bunks. "We can even feed the fruit trimmings to our grass-fed steers if we need to," he says.
V. Mac and his son Craig also operate a hatching egg operation producing 2400 tons of poultry manure annually. We feed the manure to the grass and the grass feeds the cattle Baldwin says.
Baldwin's beef operation evolved over time. He started by selling registered Charolais to purebred producers. Then, during the 1990's, he sold grain-finished steers to the
Kentucky-based Laura's Lean Beef Company. To take advantage of his own breeding
genetics, he started buying back Charolais steers from his bull customers and finishing
them out. "One time, we had 15 steers too many to fit onto the truck going to the
processing plant," he recalls. "These were big, 1,250- to 1,300-pound steers that needed a home. So we ended up selling them the as cut and packaged beef to consumers who raved over the
flavor and quality. This opened our eyes to the potential for direct-marketing."
"When we started selling grass-fed beef, we had to learn how to market," he says. So he
built a Web site, www.baldwinbeef.com, to bring in customers. Using dry ice and
insulated packaging, he can ship anywhere east of the Mississippi River within three
days. However, most of his customers come from the Durham-Raleigh-Chapel Hill metro region. His popular "Family 5 Pac" includes a 10-pound box of five frozen cuts that sells for $90. "By direct-marketing, we are able to do what most cattleman can't," says Baldwin. "We determine the price of what we sell."
Another key to his success is his relationship with meat processor Abdul Chaudhry with Chaudhry Halal Meats, Siler City, N.C. "He came to America as a 16-year-old not
speaking English," says Baldwin. "Today, he owns a modern USDA-inspected plant with a huge chill room which allows us to dry-age our beef sides. His workforce attends to details and puts our label on each package. Most importantly, the staff is honest and that makes a huge difference in this business."
Another business breakthrough came when Baldwin was invited to sell at the Carrboro
Farmers' Market. "That really taught us how to sell," he says. "We were face-to-face
with consumers selling beef week after week. They would come back and give us
valuable feedback. Our beef became so popular with the people of Carrboro and Chapel
Hill, they wanted it available at their local Whole Foods Market. This is an upscale
market with high-income clientele, and that store's team leaders became our advocates.
Thus, we are now selling in eight Whole Foods stores in North and South Carolina."
"We use no hormones or antibiotics in our cattle," he says. "These are important issues
for our customers. We didn't start out to have a branded beef product, but that is what we have. Our growth is only limited by the number of grass-fed steers that we can develop and finish. We currently market about 500 steers per year. We have the right model—the right breed, the right grass, the right location, and the right consumer base. It is just a matter of renting or clearing more land and expanding the cowherd.
There is no way we could sell 500 registered Charolais bulls per year. There are just not
that many potential Charolais bull buyers in NC. But I have 2.5 million potential beef buyers within an
hour drive of our farm."
Baldwin is active in Gideons International. He serves as 2008 president of the North
Carolina Forage and Grassland Council and he is a member of the North Carolina
Extension State Advisory Council. He is also called on to speak at forage conferences
and cattle association meetings in North Carolina,
Ken Powell with North Carolina Farm Bureau is the state coordinator for the Farmer of
the Year award in North Carolina. Baldwin was nominated for the honor by Hester
Vernon III, president of the Farm Bureau in Caswell County. Vernon said his local Farm
Bureau board felt that Baldwin would be a strong candidate because he has a diversified
operation and because of his active participation in Farm Bureau and other agricultural
organizations.
As the North Carolina state winner of the Swisher Sweets/Sunbelt Expo award, Baldwin
will now receive a $2.500 cash award and an expense paid trip to the Sunbelt Expo from
Swisher International of Jacksonville, FL, a jacket and a $200 gift certificate from the
Williamson-Dickie Company, and a $500 gift certificate from Southern States.
He is also now eligible for the $14,000 that will go to the overall winner. Other prizes for
the overall winner include the use of a Massey Ferguson tractor for year from Massey
Ferguson North America, a custom made Canvasback gun safe from Misty Morn Safe
Co., and another $500 gift certificate from the Southern States cooperative. Also,
Williamson-Dickie will provide another jacket, a $500 gift certificate and $500 in cash to the overall winner.
Swisher International, through its Swisher Sweets cigar brand, and the Sunbelt Expo are
sponsoring the Southeastern Farmer of the Year Award for the 19th consecutive year.
Swisher has contributed some $724,000 in cash awards and other honors to southeastern
farmers since the award was initiated in 1990.
Previous state winners from North Carolina include John Vollmer of Bunn, 1990;
Kenneth Jones of Pink Hill, 1991; John Howard, Jr. of Deep Run, 1992; Carlyle Ferguson of Waynesville, 1993; Dick Tunnell of Swan Quarter, 1994; Allan Lee Baucom of Monroe, 1995; Scott Whitford of Grantsboro, 1996; Williams Covington, Sr. of Mebane, 1997; Phil McLain of Statesville, 1998; Earl Hendrix of Raeford, 1999; Reid Gray of Statesville, 2000; Rusty Cox of Monroe, 2001; Craven Register of Clinton, 2002; Frank Howey, Jr. of Monroe, 2003; Eddie Johnson of Elkin, 2004; Danny McConnell of Hendersonville, 2005; Tommy Porter of Concord, 2006 and Bill Cameron of Raeford, 2007.
North Carolina has had two overall winners with Eddie Johnson of Elkin being selected
as the Southeastern Farmer of the Year in 2004 and Bill Cameron being named in 2007.
Baldwin's farm, along with the farms of the other nine state finalists, will be visited by a
distinguished panel of judges during the week of Aug. 4-8. The judges for this year
include Jim Butler, a retired USDA agricultural engineer and research leader; Elwyn
Deal, a retired Clemson University Extension leader; and James Lee Adams, a farmer
from Camilla, Ga., and the overall winner of the award in 2000.