Gift Boxes, Corporate Packages,
& Gift Certificates!
We ship!



Baldwin Beef is: 100% Grassfed, Non-GMO, A
ntibiotic Free, Hormone Free,
Extra Lean, USDA Inspected,
Halal Processed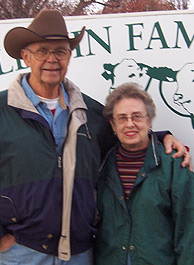 Founders -
V. Mac and Peggy Baldwin

New Products:
1. Grassfed Beef Jerky
2. Grassfed Beef Sticks


Background
We are family cattle ranchers that produce mostly purebred Charolais (Char-Lay) cattle that graze improved grasslands in Central Piedmont NC and Southern Virginia. Our finishing grasses are intensive managed, high energy, high protein winter and summer annual grasses that are free of chemicals. The end result is a delicious, all natural, lean beef, with many hidden health benefits. The perfect beef for eating quality and good health.


Our Promise To You
Is to deliver a remarkable lean beef that is tender and tasteful with a uniquely good texture and mouthwatering flavor. read what our Customers have to say.
Getting Started
You are invited to visit our Farm Beef Outlet Store near Yanceyville, NC. You may purchase any cuts of our frozen packaged beef. You may buy as small as a pound of ground beef or as large as a Whole Beef Side. Also, you may order on-line at any time but our scheduled shipping day is only on Monday. Please try to get your orders submitted by Sunday Evening for shipment on the following Monday. No charges will be posted to you credit card until your order is shipped. If you prefer to order without entering your charge information on-line, you may call us at 1-800-896-4857. All our beef purchase options are listed on the upper left Sidebar under "Start Shopping Here".

READ "The Forager", why we have a nearly perfect year-round grazing system.(Page 1/Page2)
---
Thank you for visiting BaldwinBeef.com. The on-line store to order remarkable grassfed beef. Our cattle are pasture-grazed, humanely raised and environmentally friendly. We produce beef without supplemental antibiotics or hormones. Selecting Baldwin beef means you can order and enjoy with confidence. Every order is backed by the
Baldwin Guarantee
.
---
Great Beef Gifts---Our Best Sellers