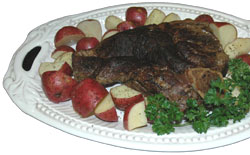 ---
What does "All-Natural" mean?
When we talk about our "all-natural" grass fed, lean beef, it means we have attempted to do everything according to the laws of nature. We don't use pesticides or chemical fertilizers on our pastures because we want our grass to grow chemical free. We also do not use any hormones (most of which are estrogen-based) or antibiotics on our steers. Should any steers get sick and are require treatment to recover, they are removed from our direct marketing program.
What about Organic?
We don't use the term "organic" because our meat is all-natural and grass fed. You can feed a steer organic grains, and still be classified as organic beef. We are not against organic certification, but we think our beef is beyond organic.
Why Charolais Beef?
We chose the Charolais breed almost 40 years ago because they are LEAN. We believed that the American Consumer would one day be fed up with fat beef. And our Charolais Bulls would be in big demand to lean-up other easy fatten breeds. Also, we knew that Charolais beef had the reputation of being the "Gormet Beef of Europe".
Why are Omega-3 essential fatty acids (EFAs) good for Us?
Studies have shown that a diet high in Omega-3 EFAs improves your cholesterol by increasing your "good" HDL cholesterol, and decreasing the "bad" LDL cholesterol. Additionally, Omega-3 EFAs are an anti-inflammatory. There is mounting evidence that inflammation of the arteries is just as important, if not more important, than your cholesterol levels in promoting heart disease.
The typical American diet is loaded with Omega-6 EFAs (primarily from vegetable oils), and combined with the trans-fatty acids found in hydrogenated oils (think deep fried foods like French fries), creates untold havoc on the heart! The problem is the ratio of Omega 3 to Omega 6 in our body chemistry.
Why is grass fed beef better for you?
When a steer eats grass, the ratio of Omega-3 to Omega-6 EFAs stays in the range of 1 to 0.5 and 1 to 1, which is optimum for excellent health in humans. This is the similar ratio found in fish. Grain fed steers have a ratio that is between 1 to 15 and 1 to 20. Why is this important? Because the typical grain-based American diet is too heavy in Omega-6 EFAs, and grain fed meats doe not help the problem. Many health professionals believe that high Omega 6/ Omega 3 ratios promotes disease – heart disease, cancer, diabetes and a whole list of other conditions.
When you eat a diet high in the correct types of fats, it actually cleans your arteries and improves your cholesterol! It commonly accepted by doctors and nutritionists that Americans should incorporate more sources of Omega-3 EFAs in their diet to balance out their Omega-3/Omega-6 ratio.
For example, fish oil supplements have recently been recognized as somewhat of a "dietary magic bullet" - and the research seems to validate this point. Accordingly, there are only a few foods to obtain a healthy dose of Omega-3, such as eating cold water salmon , flax seeds, and grass fed meats.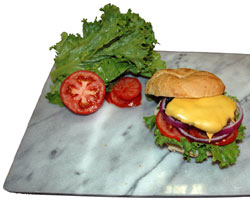 Why do Nutrition Professionals say – eat LESS saturated fat!
Grass-fed beef is naturally low in saturated fat - it is a great source of lean, nutrient-rich protein! We only raise Charolais cattle. They are naturally lean, and when raised on grass, produce a tender, and tasty meat! Protein is considered the "building block" for your body's nutrition requirements, and when you eat Baldwin Family Farms' all-natural grass-fed beef, you can be assured you are supplying your body with the best nature has to offer!
What is Conjugated Linoleic Acid (CLA) ?
Grass-fed beef is also high in Conjugated Linoleic Acid (CLA), an essential fatty acid reported to boost your immune system and fight off all types of diseases! CLA is also a potent cancer fighter! Quite simply, CLA is tremendously important for your health! When a steer is fed grains, the CLA in their meat virtually disappears. Cows that are fed grass do not experience this problem.
I thought red meat was not really that good for you?
Red meat, when it's raised the proper way – Nature's Way – is a superior source of nutrition! It's great for your health! And who doesn't want to a live long, active, healthy life? Good health is easily achieved, but only if you follow the laws of nature. There is no "Quick Fix"! I don't care how much this is promoted in the mainstream media – it just isn't true.
Holistic Medicine is becoming more mainstream, and the evidence is mounting that the body will heal itself if given the proper nutrition. You have to eat food in its natural state, and grass-fed beef can be your cornerstone for low-fat, highly nutritious, lean protein.
Why is the meat vacuum-sealed and flash-frozen at the time of processing?
Our meat is vacuum-sealed and flash-frozen at the processing plant so that it will be preservative-free – there is NO other way to do it that meets our standards! Our primary goal with our meat is that it truly be all natural, and to do this, we have to do things differently than normal commercial meat processors.
Additionally, vacuum sealing and flash freezing the meat at the processing plant allows it to be stored with no detrimental effect on taste or texture. We want to deliver the best meat possible, and give our customers the opportunity to buy the all natural, lean meat in bulk for servings and convenience.