Our All Natural, Lean Grass fed Beef Is Your Best Protein Choice
For Optimum Health
Our cattle peacefully graze about 800 acres of intensive managed high energy, high protein grasses that are free of chemicals. The end result is a delicious, all natural, lean halal beef, with many hidden health benefits – the perfect protein for good health.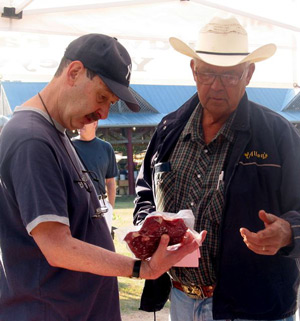 French Customer & V. Mac---- Carrboro Farmer's Market
"In Disbelief" -- He is Holding a Package of Charolais Beef--- The
Gourmet Beef of His Homeland.
When you eat beef from Baldwin Family Farms, you are getting ten major health benefits --- the best Nature has to offer:
Low in saturated fat and low in cholesterol
Lower in calories
Rich in Omega-3 Essential Fatty Acids
Rich in Conjugated Linoleic Acid
High in Vitamin B complex
(niacin, riboflavin, and B12)
High in Vitamins A and E
Rich in Zinc, Iron, and Digestible Protein
High in all Nine Essential Amino Acids
Free of Preservatives
Free of Antibiotics and Hormones

Cattle Were Designed To Eat Grass

Cattle are ruminants, and when they graze, their stomach/digestive system has a neutral pH balance. When feedlot steers are fed grains, their digestive system becomes acidic which may cause liver problems in the animal. Feedlot cattle are typically implanted with hormones to make them gain faster. A feedlot steer will gain about 3-4 lbs per day. They can reach finished weights in 14-16 months.
We grow our Charolais steers free of grains, antibiotics and hormones.
We grow them in a stress-free environment so they remain healthy! It usually takes about 24 months for our steers to reach their finish weight – about fifty percent slower (longer) than cattle raised in commercial feedlots. It takes time to grow cattle according to the rules of nature, but it is worth it. The meat is leaner, lower in saturated fat, and lower in calories (up to 100 calories less in a six-ounce serving). Beef from grass fed steers has about 50% of the saturated fat of that from grain-fed steers. Grain fed steers have a totally white fat. The fat in our grass fed steers is light orange colored due to the beta-carotene in the grass.
Baldwin Charolais Beef Is 100% Preservative Free
It is difficult to find additive-free beef in supermarkets. Most of it has sodium additives to protect it against bacteria and to extend shelf life. Baldwin Charolais Beef is 100% "preservative free" - it is vacuum-sealed and flash frozen at a custom USDA inspected plant.
Since our beginning in 1969, Baldwin Family Farms has been dedicated to producing all natural, grass fed, antibiotic free, family beef at reasonable prices. We handle every aspect of the operation except for final processing and sell DIRECT, keeping the path from pasture to plate as short as possible.
Our Promise To You


Is to deliver a uniquely remarkable lean beef that is grassfed, all natural, and tender, with mouthwatering flavor that you and your family can enjoy with REAL health benefits!